Regular price

Rs. 999.00

Sale price

Rs. 799.00

Unit price

per

Sale

Sold out

The Talking Canvas brings an affirmation colouring book kit in collaboration with Ocean Bloom Books. This book is beautifully designed with illustrations which aid in reinforcing positive vibes as the child colours it with our quality colour pencils. This is perfect for 5-14 yr olds to de-stress by colouring and reinforcing self-love. Affirmation Drawing and Painting Kit for Kids and Preteens is a perfect gift to Children for Painting, Drawing, and Coloring with Set of Color Pencils, Canvas Pouch and book with some Stickers! All this comes in our beautiful handcrafted Kraft paper folder.
Kit Includes

1 Coloring book
1 Set of colour pencils
Canvas pouch
Kraft paper folder
Share
View full details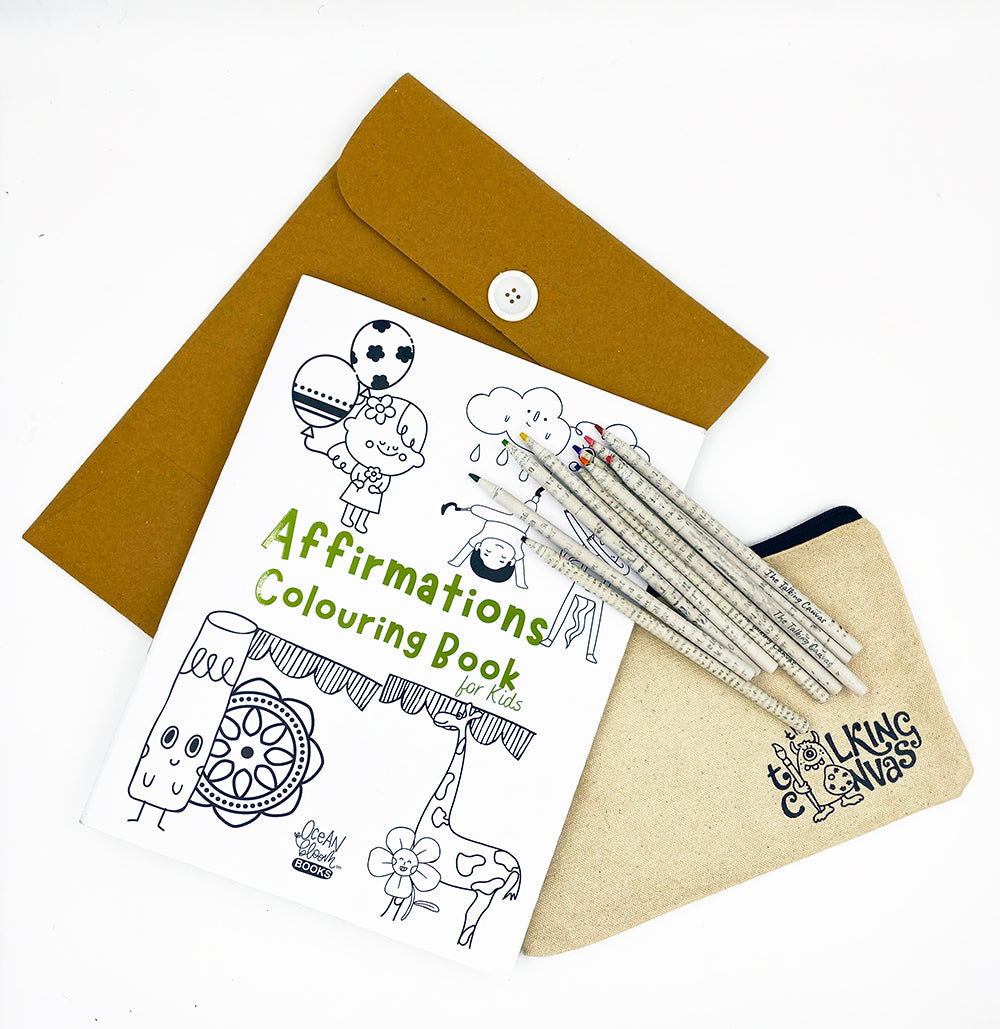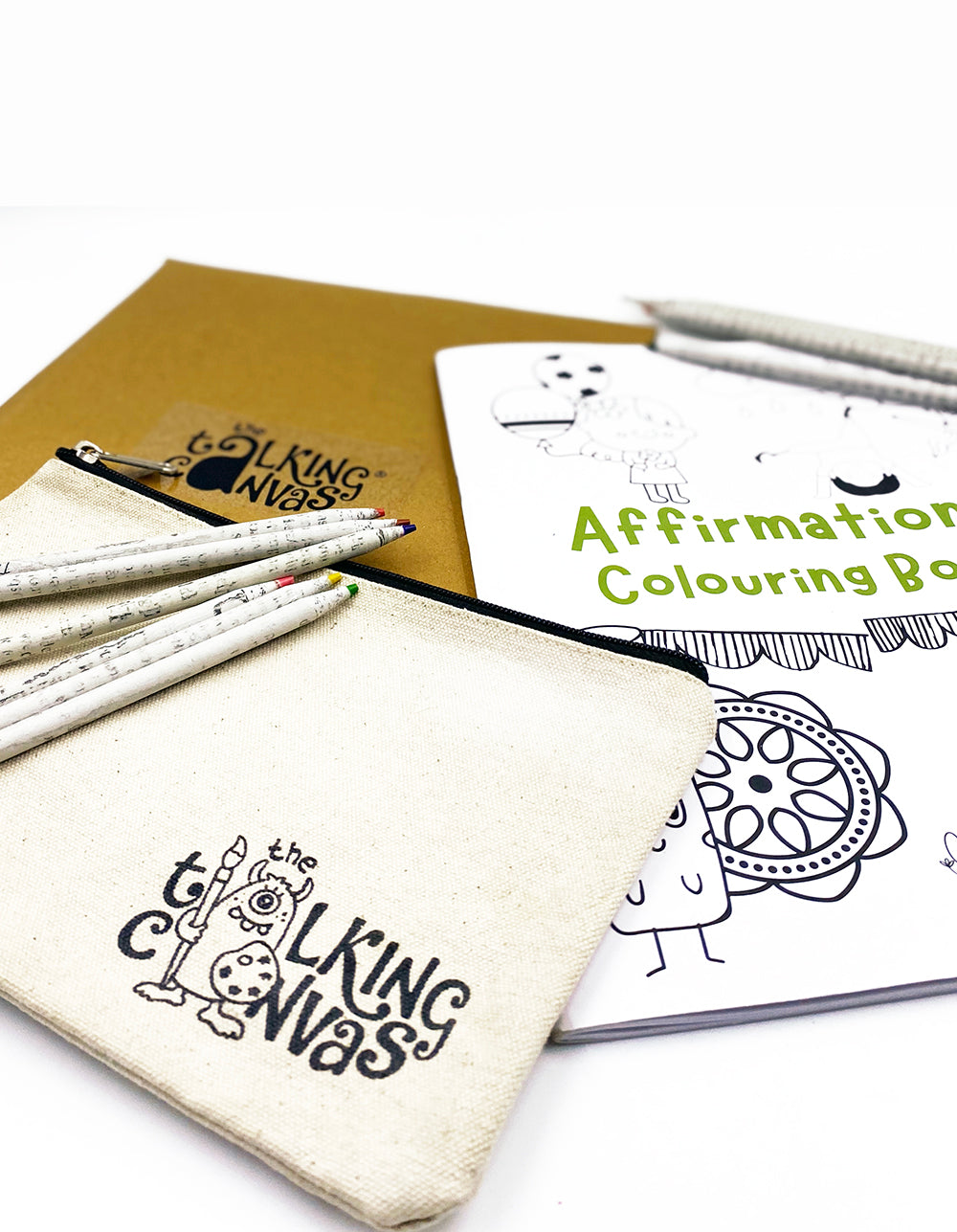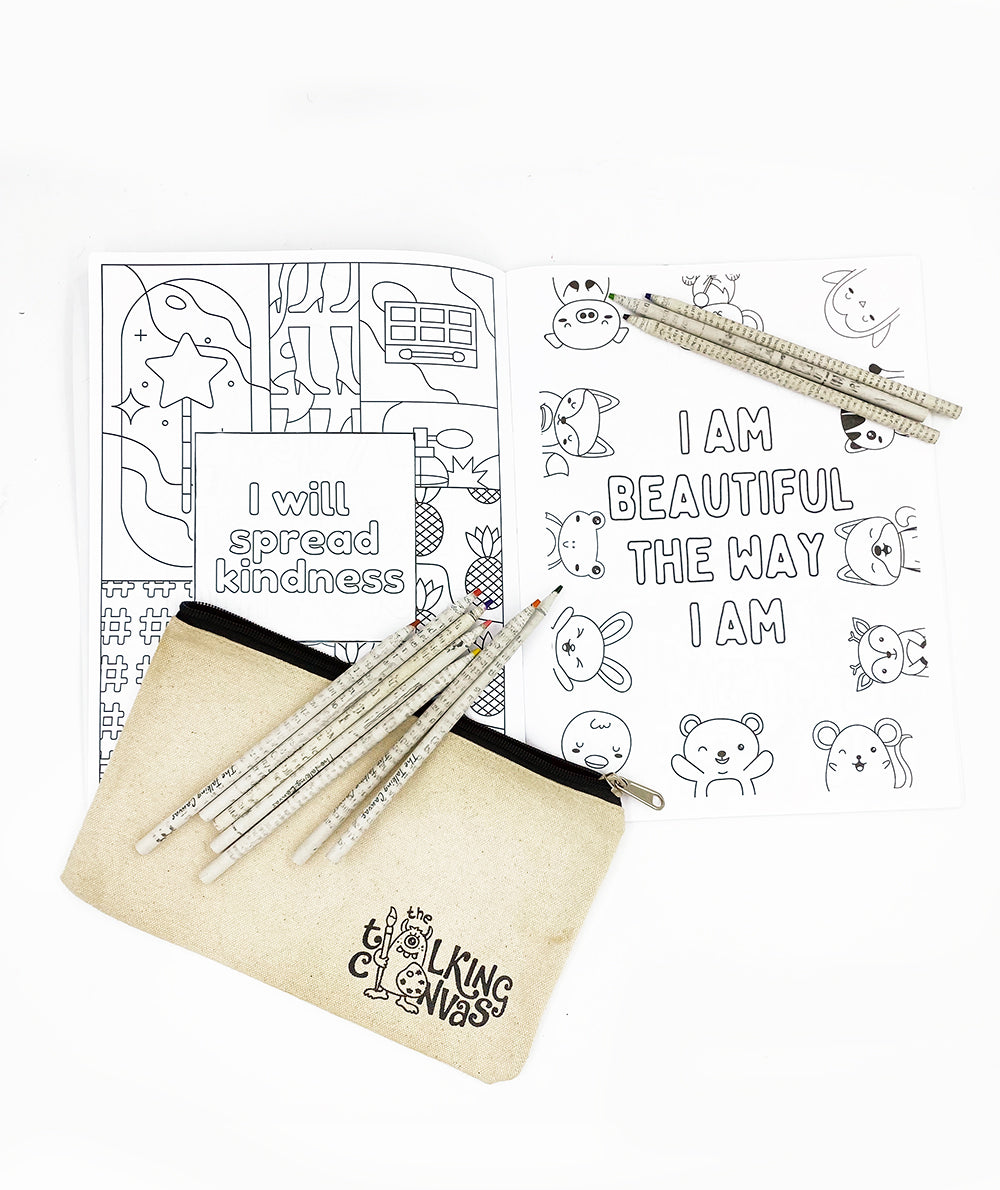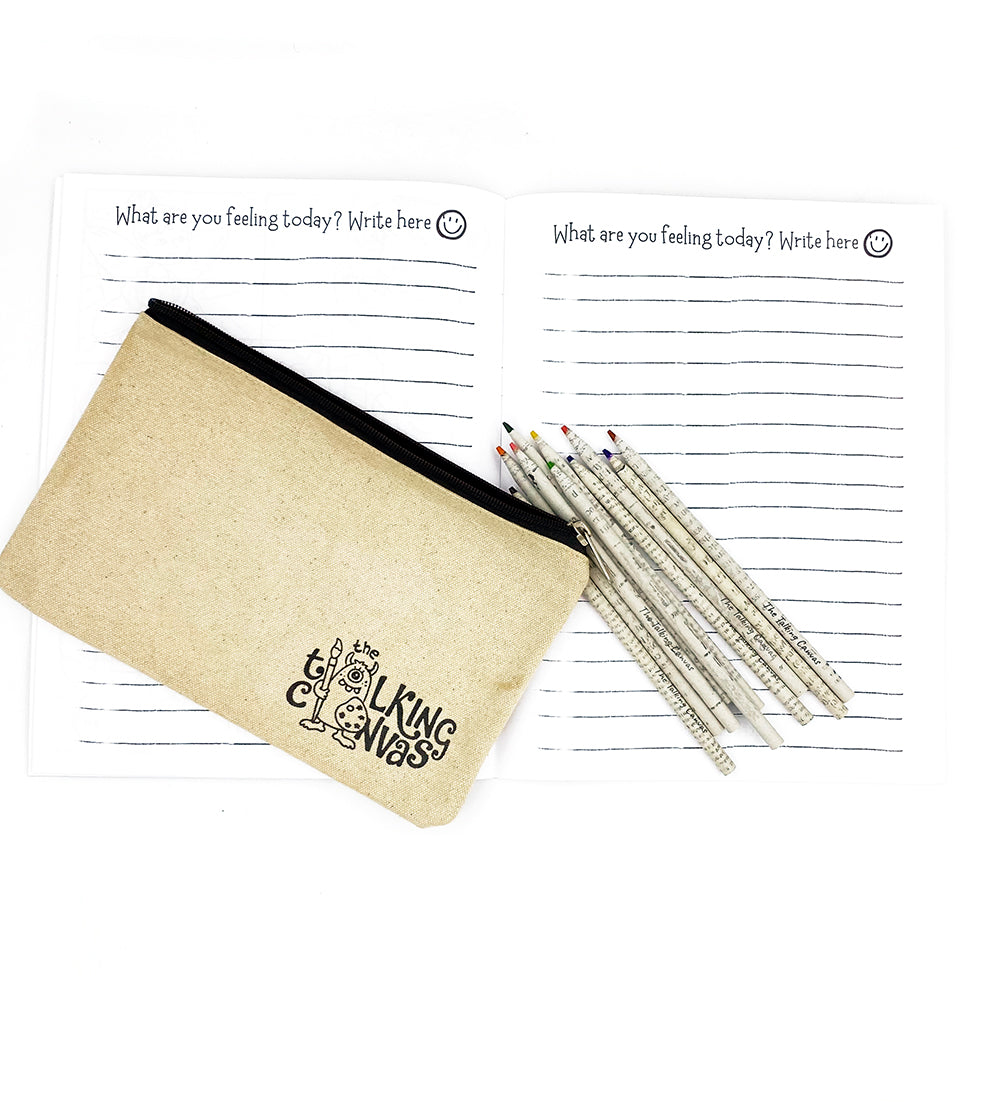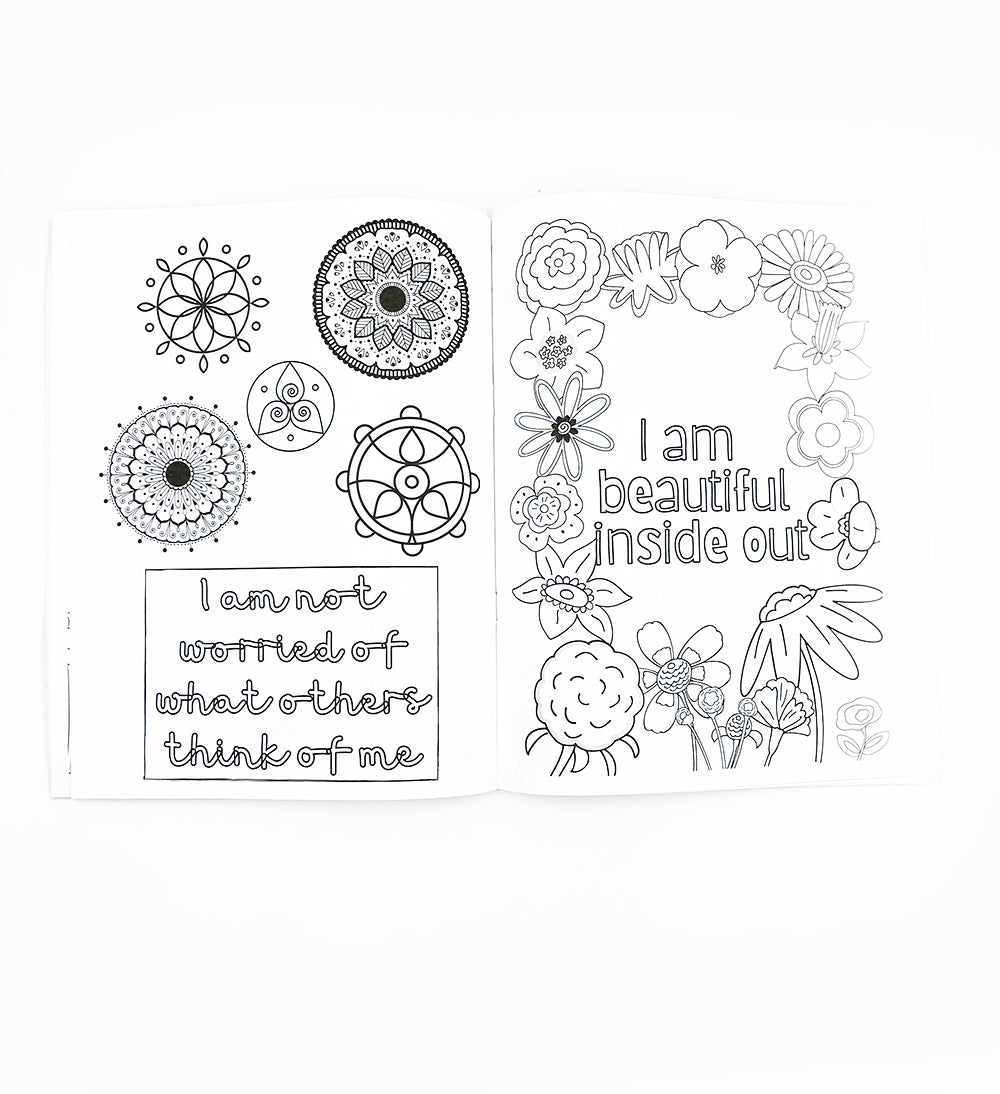 Affirmation Colouring Book for Kids
Affirmations are great tools for children to deal with the ever-evolving world and the affirmation colouring book does exactly this. As significant as it is for mothers, parents, and families to encourage and nurture their children, it is just as significant that they help children create positive emotions within themselves. It is empowering for children and pre-teens to create feelings of self-worth and self-acceptance, so it is challenging for society to put them down. As kids form good habits and wire their brains, it positively impacts their well-being.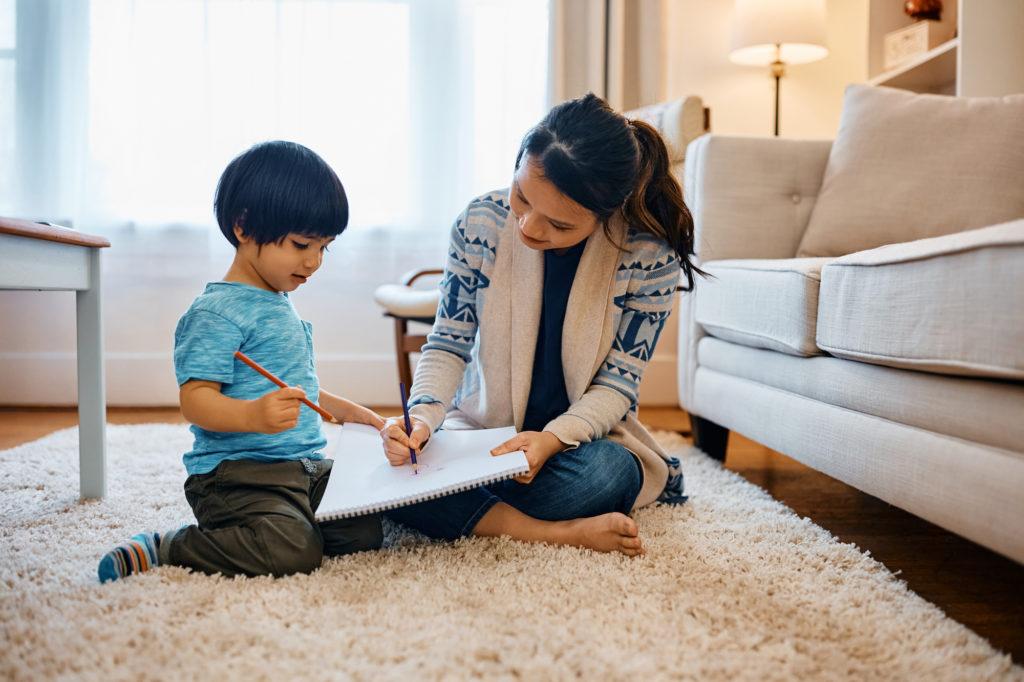 More about Affirmation Colouring Book
How game-changing it would be if the affirmations are colorful and fun? The Talking Canvas changes the game by facilitating coloring and repeating the positive self-talk like a mantra in a drawing kit including an colouring book for kids, color pencils and pouch. Talking Canvas brings a coloring book for kids that not only aids habit formation but character building. Every page shows up a powerful self-talk quote to fill in the color

The Talking canvas drawing book reinforces a holistic belief system of self-love and moral etiquette. The pictures in the book are clear and simplified with bold outlines to make it easy for kids to color inside and also appeal to their creative side. This Drawing copy for painting and coloring paves a way for kids to acquaint themselves with disciplined strokes, and perfect grip. It is also the best gift for drawing and a coloring kit for kids and preteens with low emotional or creative quotients.

So, get your tiny tots and preteens an Affirmation coloring book and facilitate happy childhood and a resilient life!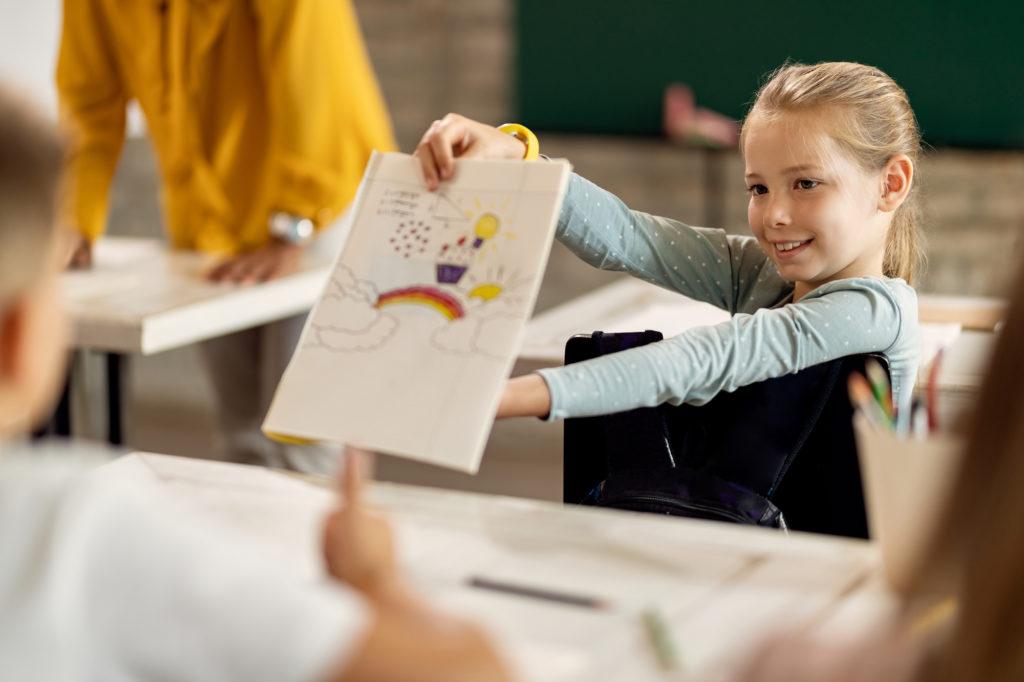 About Us
The Talking Canvas is a brand with a mission to inspire and enhance creativity in kids through art. We are all about uniqueness and originality with a promise of providing you with the best quality products. We have two range of products, DIY kits to enhance creativity and a range of apparel products to showcase creativity. We sell online via Amazon, Hopscotch, Flipkart and First Cry.
When you purchase our products, you are investing into a concept to popularise and inspire kids to think 'design'.