Regular price
Sale price
Rs. 999.00
Unit price
per
Sale
Sold out
We offer our best toddler activities set
With its unique wooden stamp cube, dab brush, paints and a plate to mix colors, our toddler activities set is the perfect kit to get young ones interested in art. This space toys for kids has six different designs such as Astronaut, Rocket, Planet Saturn, Spaceship, Star, and Moon. This makes it so much fun for kids to learn and identify shapes and give each object its own character. Toddlers will engage in this beautiful art activity and learn crucial skills in the process.
The sentimental value of artifacts created during early childhood years holds special importance in adulthood, so why not make it a stepping stone of memory lane?
Our safe non-toxic materials will help your child get messy with their hands. The paper roll is the best way for you to let children dabble in art as much as they want. Just tear off as required. Our kit will allow them to focus on a project, relax their mind, and express themselves better.
Our best toddler art kit for toddlers contains:

1 3x3 inch Theme Based Stamp Cube
5 M Paper roll
6 15ml tubs of tempera Paints
plate to mix colours
1 dab brush
| | |
| --- | --- |
| Weight | 0.99 kg |
| Dimensions | 33.02 × 20.32 × 8.25 cm |
Share
View full details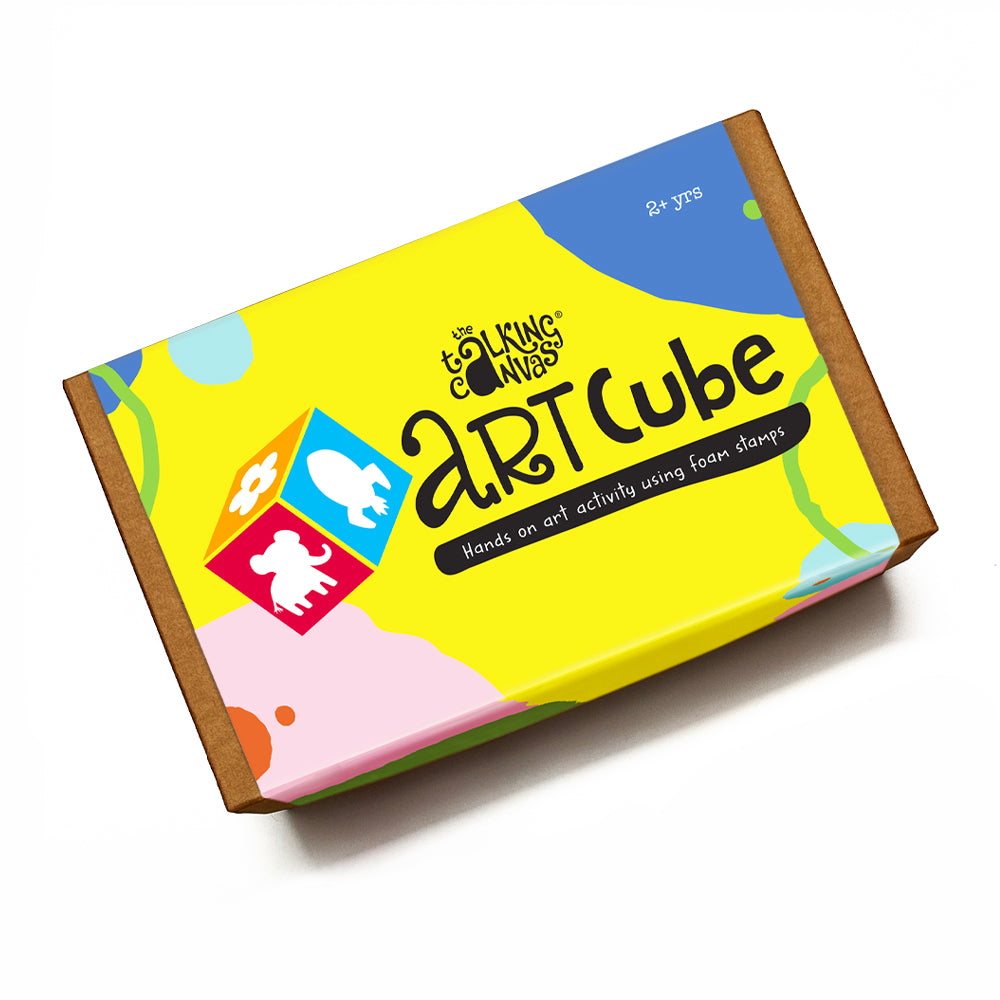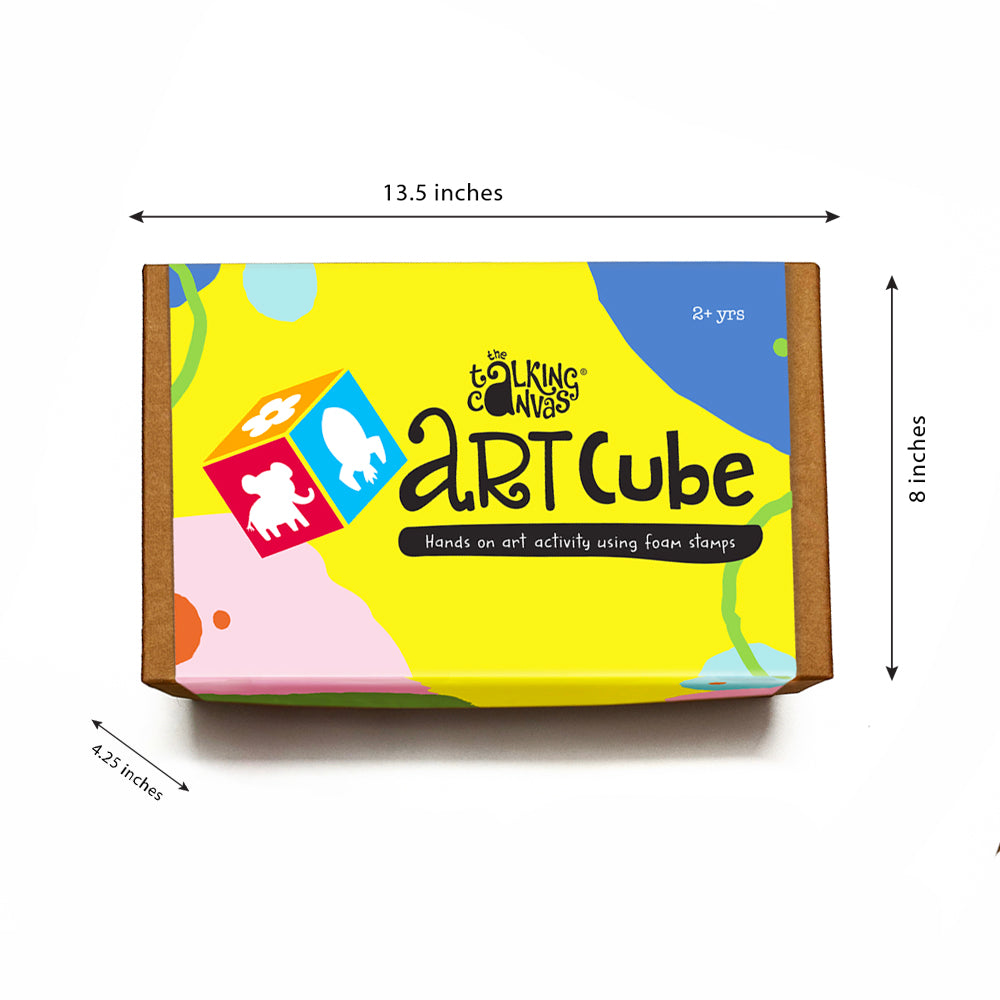 Best Toddler Art – Jungle Theme Stamp Cube
The Talking Canvas presents the best toddler art toys for toddlers! We bring together the best toddler art kit to spark genius in your child. The stamp cube comes in four themes and is the best way for young kids to get started with art. Even if they make a mess, thats fine. It's meant to be that way. The paints will wash off, so not to worry!

What is stamping?
Our best toddler art kit, stamps, and like, increase enthusiasm central to learning in formative years. Stamping designs on paper roll is the best way for young children to get started on art. The multi-purpose cubes for stamping are fun for toddlers as it gives a way focus, concentration, hand grip and creativity. Children identify each shape and they get to draw inside it and add more character to each design. It's a blank slate which makes it so fun and educational for children. Toddlers can apply colors on the surface of the stamps and create an impression on various surfaces such as wood, cardboard, notecards, and paper. Interestingly, there are no downsides to the art of stamping with the kids stamp set. On the contrary, the bright sides are myriads.

Below mentioned are proven bright sides of stamping:

Encourages creativity and curiosity
Promotes hands-on learning
Boosts happy hormones in the brain
Prompts new ideas for toys
Enhances motor skills: Gross and fine
Encourages socialization and friendship
Endorses downtime with family
Bearing in mind the tender age, we have put together the best toddler art set to help young children gain confidence with colours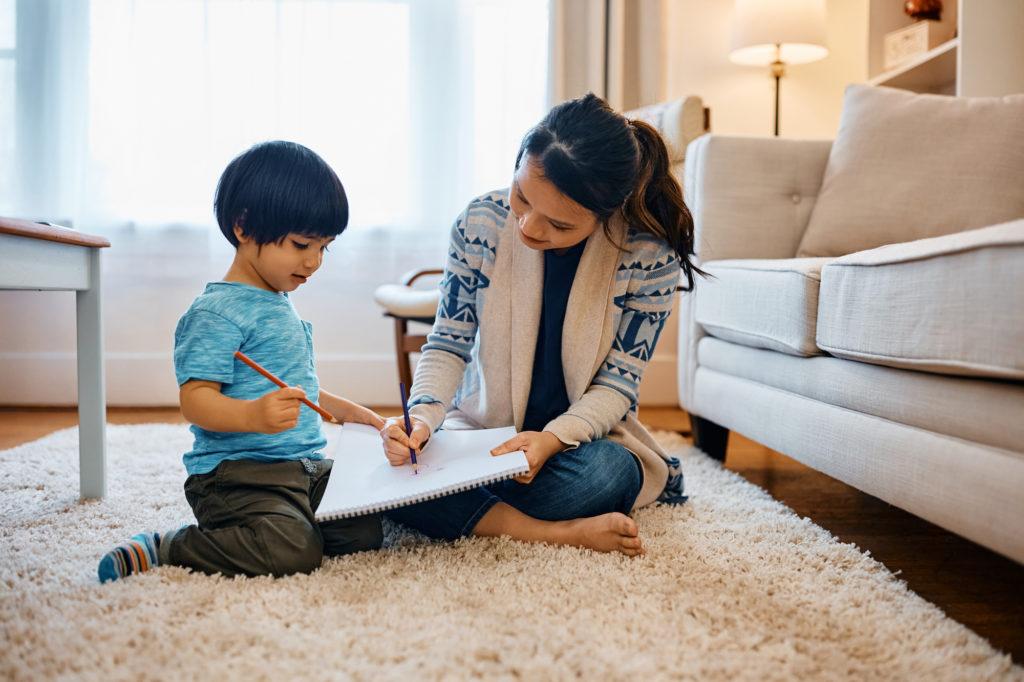 Our unique stamping cube
We believe in making learning fun and happy for toddlers. Creating an environment eliciting the understanding of a process instead of telling boring instructions! Experimental researches on childhood development say that young preschoolers attention span is between 5 to 6 minutes. The stamping cube has proven exemplary in grabbing that attention span. Moreover, group activity has pedagogical value and reinforces the ideas forever. Hence we have designed the stamping cubes bearing in mind the importance of family time. You can invite their friends, cousins, and
grandparents to create beautiful masterpieces to cherish forever.

How to stamp?
Easy peasy, lemon squeezy! Just let the toddlers paint colors over the stamp designs on the cubes and boom! Stamp it on the paper roll provided or any hard surface.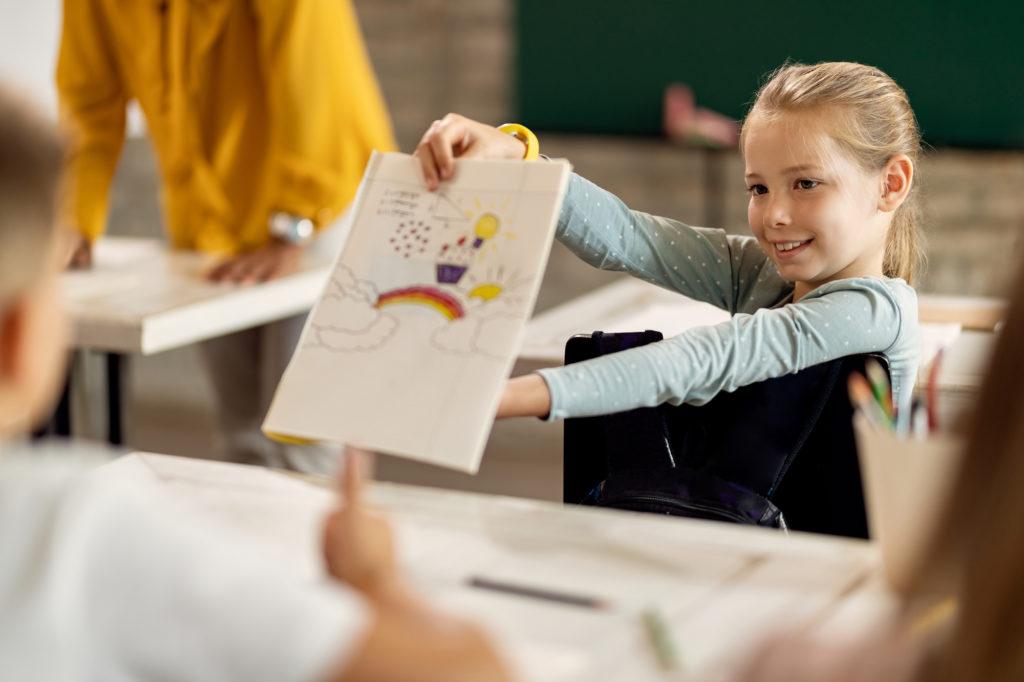 About Us
The Talking Canvas is a brand with a mission to inspire and enhance creativity in kids through art. We are all about uniqueness and originality with a promise of providing you with the best quality products. We have two range of products, DIY kits to enhance creativity and a range of apparel products to showcase creativity. We sell online via Amazon, Hopscotch, Flipkart and First Cry.
When you purchase our products, you are investing into a concept to popularise and inspire kids to think 'design'.